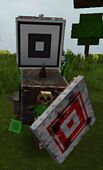 Goblock Decoys are heavily-armored Goblocks that forces turrets to focus on them. They are equipped with shields that protects them from frontal attacks.
The Howitzer is effective against them.
Goblock Decoys have no weapons and cannot attack. Their only purpose is to distract your turrets so that the other Goblocks would have the opportunity to attack your barracks.
The Sniper Rifle takes about 3 shots to kill the Decoy while the machine gun takes 5 rapid rounds of ammunition to kill them.
Aim for their un-shielded sides! Although they may be difficult to kill, a well-placed shot could be detrimental to them. Take advantage of this the next time they appear.
Ad blocker interference detected!
Wikia is a free-to-use site that makes money from advertising. We have a modified experience for viewers using ad blockers

Wikia is not accessible if you've made further modifications. Remove the custom ad blocker rule(s) and the page will load as expected.