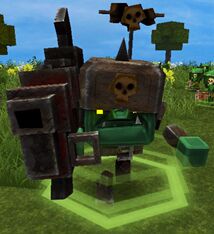 The Goblock General is a veteran warrior having fought hundreds of battles. He weilds a powerful machine gun capable of producing a steady damage output. He increases the attack, defense and speed of all ranged Goblocks on the map.
He appears to be holding a machine gun in his right hand, while wearing a helmet with a skull logo and what looks like an antenna above his helmet.
It is good to use the Sniper Rifle against him
In the older versions of Block Fortress, Goblock Generals wield a laser that gives a high damage output.
The new Goblock General resembles the Gunner from Block Fortress: War.
Ad blocker interference detected!
Wikia is a free-to-use site that makes money from advertising. We have a modified experience for viewers using ad blockers

Wikia is not accessible if you've made further modifications. Remove the custom ad blocker rule(s) and the page will load as expected.