Mods are in-game craftables that are used to improve one's defenses by increasing and modifying the stats of the equipment/block it is attached to.
In order to craft mods, you must have the required rare minerals and have available slots to hold it.
To access the crafting screen, you must first tap "Craft" at the title menu:
You will be presented with a screen with 2 scrollable menus and it will show you the statistics of the equipment/block that is selected, including the mods that are equipped. The statistics will also update accordingly as you equip various mods.
If the slot is empty, you can tap on it to see the list of availabe mods that can be crafted for it.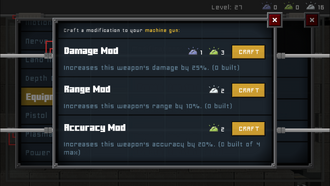 If you run out of slots, you can choose to add an extra slot into the equipment/block by spending rare minerals, up to a maximum of 20 slots. You could also destroy your existing mods for no refund.
Note that mods that have been crafted for one equipment cannot be used for another equipment. Mods that have been crafted are immediately equipped.
List of Available Mods

Edit
Mod Name
For use with ...
Description
Maximum Number
HP Mod(Blocks)
Blocks
Increases the health of the block with this mod attached by 20 hp.
5
Salvage Mod
Blocks
Recieve 100% of the block with this mod attached when it is deleted.

1

Damage Mod
Blocks
Increases this weapon's damage by 25%.
-
Range Mod
Blocks
Increases this weapon's range by 10%.
-
Repair Mod
Blocks
Slowly repairs the block this mod has been attached whenever it is damaged.
5
Power Source
Blocks
The block that has this mod will no longer require power from a power block.
1
Detector Mod
Blocks
Allows the block to target enemies in the dark, without the help of a light.
1
R.O.F. Mod
Blocks, Equipment and Bots
Increases the rate of fire of this weapon by 20%.
5
AOE Mod
Blocks and Equipment
Increases the blast radius of the weapon with this mod attached by 0.5 blocks.
6
Slow Mod

Blocks, Equipment and Bots

Gives the weapon with this mod attached a chance1 to slow targets.
5
Stun Mod
Blocks, Equipments and Bots
Gives the weapon with this mod attached a chance2 to stun targets.
5
Power Mod
Power Blocks and Power Boosters
Increases the amount of power added to your power grid by this block.
-
Growth Mod
Farm
Increases the growth rate of farms by 25%.
2
Nourishment Mod
Farm
Increases the amount of extra health gained on consumption of farm blocks by 10.
10
Accuracy Mod
Equipment
Increases the accuracy of the weapon attached with this mod by 20%.
4
Armor Piercing

Mod
Equipment
Increases the weapon's armor piercing(i.e. chance to ignore armor and shields) by 20%.
-
Ammo Mod
Equipment
Increases the weapon's ammo capacity by 25%.
-
Reload Mod
Equipment
Decreases the reload time of the weapon with this mod attached by 15%.
5
Tactical Light
Equipment
Shines a light where you aim with this weapon, allowing turrets to fire at the illuminated targets at night.
1
Energy Core
Plasma Pistol and Plasma Rifle
Eliminates this weapon's reload time(i.e. infinite ammo).
1
Identification Mod
Spotter
Identifies each enemy type and shows using symbols.
1
Status Mod
Spotter
Identifies the status of enemies(i.e. moving or attacking, by using colored symbols).
1
Barracks Mod
Spotter
Shows where your barracks is located using a base symbol.
1
Armor Mod
Armor
Increases armor by 5%, while slightly decreasing movement speed.
5
Ranged Armor Mod
Armor
Increases resistance against ranged attacks by 10%, while slightly decreasing movement speed.
5

Melee Armor Mod

Armor
Increases resistance to melee attacks by 10%, while slightly decreasing movement speed.
5
Lightweight Mod
Armor
Cancels out a portion of the move speed penalty given by the armor.
5
HP Mod(Equipment)
Stimpack
Increases your character's maximum health by 20.
5
Regen Mod
Stimpack
Slowly regenerates health.
5
Move Speed Mod
Stimpack and Bots
Increases move speed.
5
1, 2Percentage chance to slow/stun units varies with weapon. Using a weapon with an original high rate of fire will reduce the chance for units to be slowed/stunned.
Ad blocker interference detected!
Wikia is a free-to-use site that makes money from advertising. We have a modified experience for viewers using ad blockers

Wikia is not accessible if you've made further modifications. Remove the custom ad blocker rule(s) and the page will load as expected.